Delicious Malabari/Kozhikodan Kabsa Recipe
Kabsa is one of the very popular dishes among Asians particularly on middle-east where it is originated. There are a wide varieties of this tasty dish based on regional, traditional touch along with the ingredients used [kabsa recipe].
Here is how you can prepare it in quick 8 steps.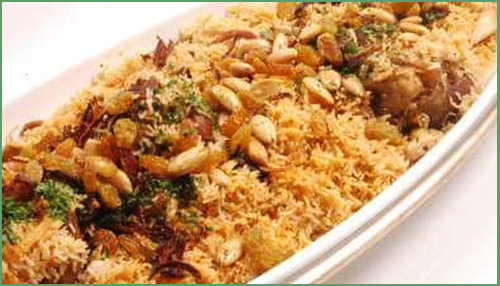 Ingredients
Onions Finely Chopped
Chopped Garlic
Chopped Ginger
Tomato's Finely Cut
Tomato Paste 2-3 Spoons
Dried Lime/Lemon
Powdered Spices
Cinnamon Powder
Cardamom Powder
Clove Powder
Pepper Powder
Cumin
Redchilli
Coriander Powder
Rice 4 Cups
Chicken ½ Kg Small Pieces
Marination
Marinate Chicken With Chilli Powder, Coriander Powder And Pepper
Cooking Method
Step 1: Heat A Pan And Melt Some Butter, Saute Onion And Garlic Till It Gets Brown
Step 2: Add Onions To It Saute It Till It Softens and Then Add Ginger And Saute, Add Some Salt
Step 3: Take Another Pan, Heat Some Butter And Lightly Fry The Marinated Chicken Till It Gets Golden Color
Step 4: Add Tomato And Tomato Paste To The Pan One Where The Onion And Ginger Is Getting Cooked, And Sauté.
Step 5: Add The Ground Spices To It And Also Add The Dried Lime/Lemon You May Transfer This Mixture To Another Pan, On Top Of Which Add The Chicken And Mix Well
Step 6: Add Salt To Taste And Mix Well (Tip: Can Add More Chilli Powder If You Like It Spicy). Add Water To It And Allow It To Boil For 10 Minutes
Step 7: Meanwhile Fry The Rice In A Pan With Some Butter
Step 8: After 10 Minutes Remove The Chicken From The Cooking Pan Along With Some Gravy And Cook It Separately, Add The Fried Rice To The Already Boiling Gravy.
That's it! Once Chicken Is Cooked Well, You Can Add The Chicken Back To The Rice And Mix.
Serve Well With Rhaitha Or Tomato Sauce
Enjoy the malabar kabsa recipe!